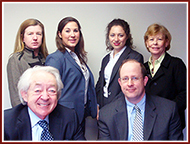 "Richmonds" is the result of a successful combination of the formerly separate practices of Stephen M. Richmond and Laurence K. Richmond. For over forty years, "Steve" Richmond has been a business lawyer who has developed a reputation for placing the emphasis on resolving the financial and legal difficulties of troubled businesses and the accompanying problems posed to their owners and managers. A founding and managing partner of Boston's Kaye, Fialkow, Richmond & Rothstein, he joined its successor, Wall Street's Stroock & Stroock & Lavan LLP, serving on its Executive Committee and as managing partner of its Boston office. Steve has found solutions for the difficulties faced by hundreds of New England and national companies, their investors and bankers, often serving as a Trustee in Bankruptcy or as an out-of-court Trustee for creditors.

Laurence K. Richmond ("Larry") has practiced for over seventeen years, first as an Assistant District Attorney, then with Stroock & Stroock & Lavan, before opening the firm of Laurence K. Richmond & Associates, P.C. There he applied his experience as a Norfolk County prosecutor, to providing hands-on representation in all the courts of the Commonwealth, both state and federal. Most recently, under Larry's guidance, the firm has been of particular help to construction companies and property owners in resolving a wide variety of issues including Miller Act claims, statutory mechanic's liens, the defense of Labor Department/wage and hour claims, the prosecution and defense of general and subcontractor claims and the resolution of complex landlord/tenant disputes. Larry is also a trained and certified mediator, and frequently represents clients in arbitration and mediation before such forums as the American Arbitration Association, JAMS, and the Financial Industry Regulatory Authority ("FINRA", the successor to the National Association of Securities Dealers or "NASD").
Please select a category from the list on the left to learn more about our practice areas.